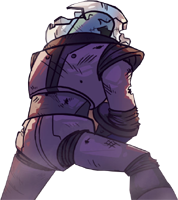 Xen
Role: Scout
Origin: Planet Xenin
Description:
Xen is the protagonist of the story, a scout of the Xenin race assigned to reconnaissance duty (gathering intel on Xenin airspace activity). On a routine mission Xen encounters a space anomaly that maroons him on the planet Naytonia. He now has to find the missing parts of his ship and get it fixed to get home.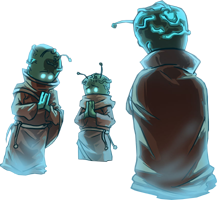 The Triumvirate
Role: Elders, Overseers (NPC)
Origin: Naytonia
Description:
The Triumvirate are 3 hermit elders; Monaed, Telaeos and Baeythos who oversee the planet Naytonia. Between them they possess a wealth of knowledge, wisdom and understanding about the Universe and everything therein. They are devout followers of Aeon, a diety whom them beleive connects everything and everyone. They convene regularly but live separately; Monaed lives in a small settlements on the outskirts of a the Great Plains, Telaeos in the Forest and Baeythos in the Swamp surrounding Island Nayto.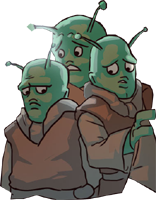 Naytonian Civilians
Role: Indigenes, Workers
Origin: Naytonia
Description:
The indigenes of Naytonia dwell mostly in villages scattered across the planet's surface in the most habitable of environments. Ever since the discovery of the magenta-colored Crystals Naytonium and the subsequent military occupation of the planet by the Hayden, they have been forced into slave labour, extracting the crystals from mines setup all over the planet under the supervision of the Hayden.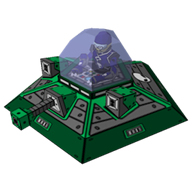 Pilots
Role: Air Support
Origin: Unknown
Description:
Hayden Pilots are the only Soldiers qualified to operate the Flying Saucers. They patrol the skies overseeing operations, drop supplies for ground troops as the need arises and provide air support in times of conflict.

#GameTips Their blindspot is directly underneath them.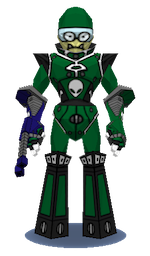 Infantry
Role: Ground Force
Origin: Unknown
Description:
The Infantry Soldier is the most basic in the Hayden military. They are usually equiped with a Chargeable Pistol and assigned guard and patrol duty at different areas of the planet. Alone they can be easily dispatched but don't underestimate them in groups.
#GameTips Try to only engage them one at a time!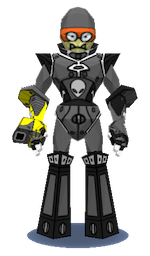 Heavy Weapons
Role: Ground Support
Origin: Unknown
Description:
The Heavy Weapons Soldier is a division of the Hayden Military Infantry that specialize in the use of Heavy Weaponry such as Launchers (Rocket, Grenade) and Miniguns. There are usually 1 or 2 of them assigned to a platoon to provide additional support in case the need arises.
#GameTips They have powerful weapons, don't get hit!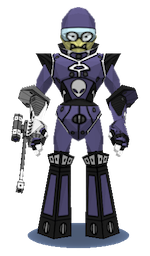 Sentinel
Role: Support Sniper
Origin: Unknown
Description:
Sentinels are one of the most dangerous adversary you will encounter. They are usually deployed with each Platoon and positioned at far-off high-rise vantage points overlooking specific areas and providing support for Hayden operations. They have an impressive field of view, coupled with their long-range weapons that they wield with deadly accuracy means that they're more likely to see you before you see them.
#GameTips Stand still and Die, keep moving and Live!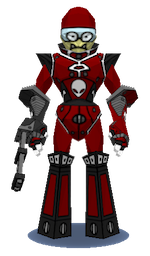 Reaper
Role: Platoon Leader
Origin: Unknown
Description:
Reapers are autonomous Soldiers with the freedom to either lead a small Platoon of Mobile Infantry or act independently. It's rare to find more than 1 Reaper in a single platoon and they report directly to the Hayden Commander. Reapers also weild the incredibly powerful (but inaccurate) miniguns and it would be ill-advised for you to try and take them head-on.
#GameTips Wait till their weapon overheats, then make your move!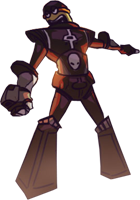 Commander
Role: Division Leader
Origin: Unknown
Description:
The Commander is the head of all Hayden operations on Planet Naytonia and the final Boss of the game. Commanders are in charge of divisions of the Hayden Army and are usually deployed to Planets (like Naytonia) to seize control and occupy to further Hayden interests. Reapers are promoted to Commanders based on their exceptional skill on the battlefield and proven track record of conquests, qualities you'll discover for yourself when you come up against him.
#GameTips Try not to get killed!